​

Ball experience
The festive opening of the Austrian Ball will take place in the Large Hall, in which our grand orchestras will ensure a perfect atmosphere for the entire evening. At the buffet located at the Large terrace adjacent to the Vestibule of the Large Hall, you will find a range of Viennese delicacies from "Würstel" to "Wienerschnitzel". At the neighbouring Taittinger Champagne Lounge, you can enjoy a glass of Champagne and tapas. At a Small terrace adjacent to the Lounge, a comfortable roofed and heated smoking area will be ready for any who wish to make use of it. The Discotheque in the Small Hall with its hot beats will, as always, be very inviting. Last, but not least, you absolutely cannot miss the Wiener Café Bar, an original combination of a traditional Viennese Café with a modern cocktail bar.
Enjoy a dance with our Taxi-dancers to give your partner a little break.
We wish you an unforgettable experience!
Dress code
Ladies: full-length evening dress
Gentlemen: black tie, gala uniform, dark evening suit with a tie
All ladies will receive a special gift.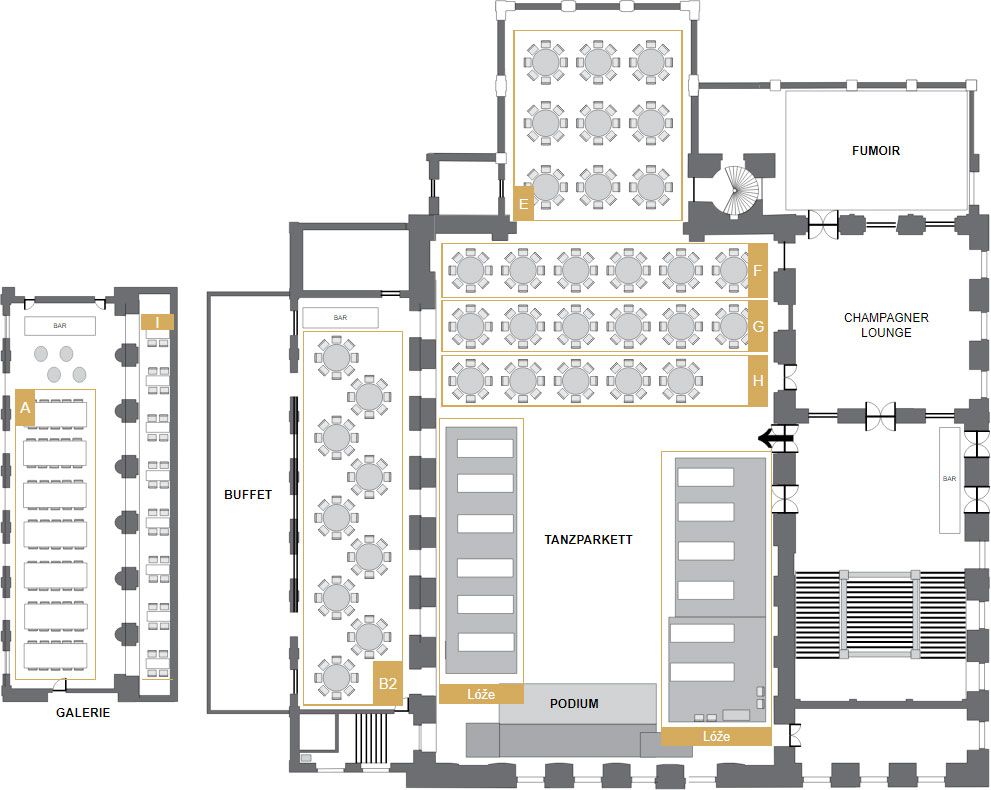 Starguest: Debbi

Debbi is a young talented soul and pop singer with a beautiful strong alt. She was born to a Czech-German family of musicians and so she started to play piano at the age of six. Debbi first appeared at the Czech music scene by participating at the Czech-Slovak Superstar. She has not made it to the finals, however she was noticed by a famous Czech music talent scout Martin Červinka and a great music producer Martin Ledvina. With her song "Touch the sun" Debbi received a Czech Grammy "ANDĚL" for the song of the year in 2010 and another one being the best solo interpreter in 2017.
Later on Debbi issued an album "Break" which was well received by the critics and regarded as a world class album offering a convincing and fresh approach to pop. With her song "High on love" Debbi took part in the local round of the Eurovision Song Contest, where she finished second.​​

Zofin Palace
Zofin Palace on Slavic island has become a traditional location for the Austrian Ball. The island itself naturally came into existence sometime between the 17th and 18th centuries. It received its first name, "Dyers' Island," after the dyers who originally settled and worked there. The island's purchase by Vaclav Novotny became a milestone in its history, as he turned it into a recreational area freely accessible to the public in the 1830s. Through his construction there of a classicist building with a restaurant and a concert hall, he created a social and cultural centre in Prague.
Upon its Grand Opening, a festive ball was held in the Main Hall. It was the first in a long line of many prestigious social events at Zofin. In 1840, Archduke Franz Karl, father of the future emperor Franz Josef I, visited Zofin. To commemorate his visit, the Archduke was asked for permission to name the island "Zofin Island" after his wife, Archduchess Zofie. The Pan-Slav Congress of 1848 took place at Zofin Palace, aimed at uniting all Slavs living within the Austrian monarchy, and thereafter the island was renamed "Slavic Island."
The island was renowned for its concerts and national balls. During the 1840s, Bozena Nemcova attended the balls here. In addition to the balls, such authors as Ferenc Liszt, Hector Berlioz, Zdenek Fibich, Pyotr Ilyich Tchaikovsky or Richard Wagner performed their concerts here, and Smetana's Ma Vlast (My Homeland) was, as a set, played here for the first time. In 1878, Antonin Dvorak held his first independent concert at the Zofin Palace. At the end of the 19th century, the island was bought by the city and the Palace was enlarged and reconstructed into its contemporary Neo-Renaissance appearance. Zofin Palace has become not only a popular meeting spot for Prague residents, but also a prestigious location for many events and social functions of national and international importance.